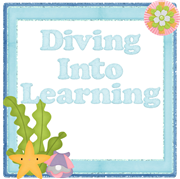 Hi everyone, I'm Jenna from
Diving Into Learning
! I'm guest blogging here today and I hope that you enjoy my post! Today I'm going to share with you one of my favorite items to use for math (and literacy) centers- file folders! I love using file folders to hold games and activities for centers. The folder keeps all of the pieces together, it is easy to store, does not take up a lot of space, plus they can be used for individual or group activities. They are great for individual activities because they will easily fit on a students desk or the student can sit on the floor and hold the game/activity in their lap. File folders are great for group activities as well because it can become the game board, it is durable, and it makes for easy clean up. Here is an example of a file folder game I have for my pre-k students (the activity is not one that I created).
you can get this game here from TPT
front of the game with the game pieces
inside of the file folder
after the game is complete
Here is a freebie from my TPT store,
Frog Theme Math Game-Sorting Even and Odd Numbers
. It can be used as a file folder game or you can laminate the pages to use for the sorting mats. Do you use file folder games/activities in your classroom?