I have joined up with Swimming into Second Grade for a Books for Boys Linky party! It's so fun. Click on her button below to go to her site and see what other people have posted.
Swimming into Second Grade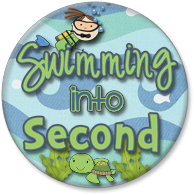 Now, some books and series are clearly marketed toward boys. Others are just great books or series that boys in my classes have been interested in. Regardless, for any boy, these would be great books to try in your classroom or at home. Click the images to learn more about the books and how to buy them if you like.
Click Clack Moo
and other books by Doreen Cronin
My students all love these books. They find them funny and silly and reread them for fun! When I read them aloud I have their full attention.
Roald Dahl
books These books always get good reviews from my students. Boys especially love the stories Charlie and the Chocolate Factory, Charlie and the Great Glass Elevator, and James and the Giant Peach. Dahl's books are funny, but with hints of darkness that I think some kids find intriguing.
Encyclopedia Brown
books
I used to love these mysteries. Oldies but truly great ! Any of them would be a hit, but I do have to warn you, some of the mysteries are tough to solve. Even adults can be challenged by some of them. My students usually learn some new vocabulary too, seeing as though the books were written several decades ago.They love trying to solve each one.
Matt Christopher books
The author Matt Christopher has been writing books since my brother was young. He loved sports but did not like reading. Matt Christopher got him interested in these books, often about sports. A current favorite of my students is the soccer one. I have 3 boys in class who are really into soccer.
The Time Warp Trio
This is a book series about three boys who can travel back in time. My second graders enjoy the stories, especially ones that deal with pirates and Samurais. A note though, if they have never read a Time Warp Trio book before it might be a slight bit confusing during the first chapter. One we just read about Blackbeard didn't really explain the how they got back in time for a few pages. Once we figured it out though they had a blast reading it!
Black Lagoon
Books Silly Silly Silly ! Don't need to say much more but boys seem to really laugh at these (as do the girls too, I can't lie)
Magic Tree House
What teacher does not have at least 10 of these in her classroom. Jack and Annie go through time and hit many interesting time periods and go on great adventures. There are also some non-fiction books now for kids who want to learn more about say, the colonial days or the time of the dinosaurs for example.
Geronimo Stilton
I only started learning about Geronimo a couple years ago but he has been quickly gaining popularity with both boys and girls. In particular I find reluctant readers enjoy this series.
I hope some of these books are in your collection, but also that maybe a few are new to you! Give them a try!
I don't know why the Black Lagoon section came out wacky. If anyone knows what might have happened let me know !Thanks! This post contains affiliate links. Thank you for supporting my blog.